Monthly Archives: July 2012
Written by: Mark Waldner on Thursday, July 19th, 2012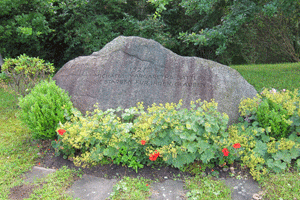 Als Teilnehmer in einem Kurs am Goethe Institut hatten wir am Samstag frei. Ich beschloss, Rottenburg am Neckar zu besuchen, wo ein Denkmal für den Märtyrer Michael Sattler, einen Täufer aus dem sechzehnten Jahrhundert, steht. Rottenburg am Neckar liegt 130 km südöstlich von Schwäbisch Hall.
Ich bin um viertel vor 9 Uhr morgens von zu Hause losgefahren, leider ein bisschen zu spät, weil der Zug um 9:00 Uhr abfuhr. Johannes Brolich, mein Gastgeber, fuhr mich mit dem Kleinauto zu dem Bahnhof in Schwäbisch Hall-Hessental. Wir kamen zwe....
Written by: Paul Wipf on Sunday, July 1st, 2012
Last week, alerted by both Mennonite and Hutterite friends, I viewed two episodes of National Geographic's currently running television series on the Hutterites.  While finding it humorously entertaining, I didn't know whether to laugh or scoff.

I understand this is in the recently evolved mode of  "reality TV," a genre of entertainment.  But what kind of "reality" can be expected from producers choosing a dysfunctional colony by which to present what they call "the very first glimpse inside" Hutterite life?

Actually, an hour-lon....