Written by: The Bridge on Tuesday, March 25th, 2008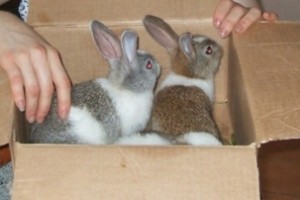 Hare-Raising Experiences!
March 8, 2008
It was bunnies on my mind, that bright and early morning when I got up to go to breakfast. The second bell rang and I went to the dining room to sit and wait for the people to come like we have to every morning. No rush in Africa. Children are always there first and they were singing morning songs with Eddy Vetter. I had almost finished my chunk of white bread and peanut butter, washed down with a good cup of sweet tea, by the time most people showed up.
After breakfast Inemesit and I went by motorbike....