Jacob D. Maendel Lectures
Written by: Kenny Wollman on Thursday, May 23rd, 2019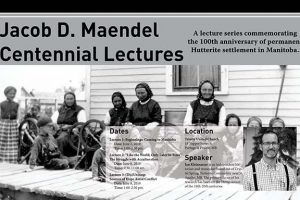 We are pleased to announce the inaugural Jacob D. Maendel Lecture Series. These talks to commemorate 100 years in Manitoba will take place in early June in Portage la Prairie, MB–we hope that this central location will make it accessible to people from all across the province.
Of all the scholars I know, Ian has done the most research in the period of the last 100 years, and everybody will undoubtedly learn a lot from his skill as a historian and speaker. You can download the series brochure here, and the poster here. Please print it out and display on your community bulletin board.
Communities are encouraged to bring all individuals interested in the Hutterites-in-Manitoba story. It has taken 100 years for us to reach the point where our own scholars can interpret our history, and we gratefully say, "bis hierher hat uns Gott gebracht!"
See you there!
Kenny Wollmann