Africa Again!
Written by: The Bridge on Wednesday, April 4th, 2018
Greetings to everybody back home, from the warm and welcoming Land of Africa!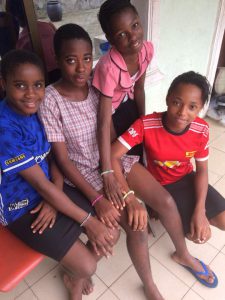 Paul Vetter, Clara Basel, Chris and myself have been in Palmgrove community for over a week now. It was such a joy to see familiar faces again, after 10 years! The last time I was here was in 2008. Now of course everybody is 10 years older…though I recognized all the faces it will take some time to attach the right names to them.
We had to, and have to, take it easy for the first bit, let our Canadian bodies get "used" to the African heat. Finally you accept the fact that you will always be sweating, when eating, when sleeping, when sitting , and you just get on with life. The first 4 or so days I had nil appetite, was just too warm for me. Now it's better, and I happily munch Clara basel's rice, nukele, toast, etc. The Palmgrove ladies often send over dishes for us mbakaras to taste, such as apankuqua, which is grated cassava wrapped in leaves and cooked with periwinkle and other ingredients. Sometimes it's a bowl of utuk mbobo, which translated means 'banana soup' and sometimes it's coconut rice. Mmmmmmm!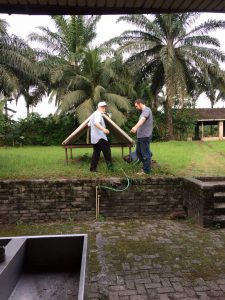 Paul Vetter and Chris have sat in numerous meetings and discussed Palmgrove affairs. Eventually it will be decided which projects to work on, which rafters to fix (the termites never stop munching), what equipment to replace (moisture and intense sun accelerates rust and decay), and so on and so forth. Together with Palmgrove management they will decided which course to pursue on which project. I don't envy their decision making tasks.
Last Sunday we had an excellent church service. The Children sang, the adult choir sang, Inno preached for over an hour, I thiiiiink, then Paul Better preached. It was inspiring! After the service we had a brotherhood meeting with all baptized members and talked about whether or not we are each individually ready for communion next Sunday. Every member had to stand up and declare where they stand and whether all is right with each person's heart. So, next Sunday we will be breaking bread with our brothers and sisters in Christ here in Africa.
Maybe you can send ideas of what you would like me to write about in the comments below. I will do the best I can manage.
Leanne, Adiah