Michael Sattler's Memorial
Written by: Mark Waldner on Friday, May 17th, 2013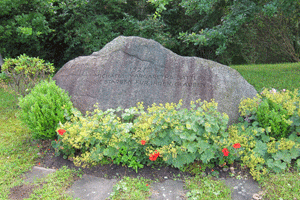 This article was originally published in German in July of 2012.
In July 2012, I was fortunate enough to be selected to receive a scholarship to attend a 2-week German language course at the Goethe Institute in Schwäbisch-Hall in Germany. During this time, our group of teachers had one Saturday free. I decided to visit Rottenburg am Neckar, where a memorial for the martyr Michael Sattler was erected some years ago. Michael Sattler was an Anabaptist who lived and worked during the 16th century.
Rottenburg am Neckar is situated about 130 km south of Schwäbisch-Hall.
I left my guest house with my host at quarter to 9 that Saturday morning, unfortunately a bit too late, because I had a 9:00 train to catch.Johannes Brohlich, my host, drove me with his car to the train station in Schwäbisch Hall-Hessental. We arrived a few minutes before 9:00 AM! and we still had to find the proper train station. But it worked out and I didn't miss the train. The train ride lasted 3 hours with a couple of transfers. During the train ride, I contacted Mark H. who had written about the memorial on his blog and he explained how I could find it in Rottenburg. Google maps was a wonderful tool to help me identify it, and when I arrived at the station, I knew exactly where I need to go to locate the memorial, about a kilometer south of the train station.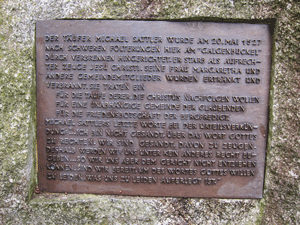 Michael Sattler was an anabaptist or "Täufer" who lived in the 16th century.  Under his leadership, the Schletheimer's Confession was created, nine articles of faith, to which the Hutterites and other Anabaptist groups adhere to this very day.
He was captured on May 31, 1527 and taken to court, where he defended himself against the nine charges he faced. For example, he was accused of "teaching that children's baptism was not necessary to one's salvation" and that "the body and blood of Christ was not a part of the sacrament".
He told the judge that if they could "show with the Holy Scriptures that we are deceiving ourselves and are in the wrong, then we will gladly back down and recant…but if nothing is found in error, then we hope to God, that you will convert yourselves and let yourself be taught."
But of course this discourse did not please the judges and the scribe answered, "You dishonourable, desperate villain and monk, why should we argue with you? Yes, the executioner will argue with you."
His verdict was as follows:
Between the counsel of the imperial Majesty and Michael Sattler, it was judged as good and right, that man should hand Michael Sattler over to the executioner. He should haul him to the place of execution, cut out his tongue, forge him to the executioners wagon where his body should be torn two times with glowing forceps and when he reaches the gate, five times more."
Michael Sattler was deemed a heretic,  was tortured and burned alive at the stake.
The memorial is situated outside the town of Rottenburg, at a place called the "galgenbuckel" or gallows hill.  There a few meters away from the ripening wheat and two-meter high corn lay the large memorial stone.  On the front of the huge rock are the words "1527- Michael u Margethe Sattler. They died for their faith".
On the back of the stone the following text is engrained on a metal plate:
"On May 20, 1527, the anabaptist Michael Sattler was burned at the stake after severe torture here on the Galgenbuckel. He died as a upright witness to Jesus Christ.  His wife Margarethe and other church members were drowned and then burned.  They advocated:
For the baptism that Christs followers desire
For an independent community of believers
For the peace message of the Sermon on the Mount
Michael Sattler's last words at his judgement at the court were: I am not sent to argue over the Word of God. We were sent to be witnesses to His Word. Therefore, we will not appeal to any other Law…but if we are unable to withdraw from this court, we are prepared to suffer whatever is laid upon us.
Looking back today, it's hard for us to imagine the steadfastness and faith of this man and many other Anabaptists who were martyred.  But they had no choice: either they recant their beliefs or die.  And for many, recanting was no option.  The blood that they shed was a witness to their faith and today, Hutterites and others can learn much from their steadfast conviction and willingness to die for their deeply-held faith.