Making Bricks The Hard Way.
Written by: The Bridge on Friday, April 4th, 2008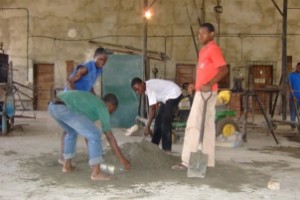 When I think of getting some bricks for a garden, I think of getting a pallet from Barkman Concrete. Here in Palmgrove things are a lot different. Bricks are made entirely by hand. In the end, the finished product is of low quality and very inconsistent. But, with a rainy season that lasts eight months the people of Palmgrove rely on bricks to stop erosion. The termite ants are also a major reason for brick usage. Overall, the most notable thing about brick making is the amount of labor it takes.
To make bricks they need cement. There are five ingredients in making bricks: sand, granite, cement, water and lots of work. First two wheelbarrows of the yellowish sand are brought. Then they bring one wheelbarrow of granite sand. The two sands are mixed by reshovelling the pile of sand three times.Then they add cement and again re-shovel the pile three times.After this, water is added and again the pile is re-shoveled three times.The water is slowly added so they get moist, but not wet cement.

If the cement has the proper moisture, they will then shovel it into a form.The form is packed full and stamped to make sure the cement is packed properly.After this, the bricks are removed from the forms by shaking and tapping much in the same way one would make a sandcastle.They are left to dry in the sun and another set of bricks is packed in the form.They have only two sets of forms and each form will make four bricks.
However, even after all this the bricks are of low quality because they were made with such a low moisture level.The brick is not dense but reminds one of pumice stone.If the brick wasn't packed properly and it was dropped two days latter it would break in two.Sometimes people even cheat and add more sand.I have seen a brick that I was able to crush with my hand.I have seen a stonewall where I could stick a knife through the brick and it would crumble.
So then, you ask why.All I can figure out is that they only have a few forms and invented this method to cope with what they have.These forms have to be reused to make a batch of bricks.If the cement was wetter then the bricks would run apart.As for mixing more sand, it is only a way of cheating someone of a few nairas.

The people of Palmgrove make all their own bricks and in the past have had a business of selling bricks to people.One wonders why they would not use a mechanical system for mixing the cement, but as Eddy Vetter from Cascade Colony said "They've always done it like this, how else would they do it."The truth is they don't want to do it differently.
The bricks play a major role in preventing erosion around the buildings.Bricks are also used in building buildings.The bricks used in buildings are a lot larger and are mortared into place.In fact buildings have to be made of brick to prevent termites from destroying the building.Any thing that's made of soft material may be eaten by termites in one year.

Around here, when I see a brick building or a stone fence, I think of all the labor that went into making the cement. Places like the fish pound, the drainage system that runs all over Palmgrove, and all the buildings are something to marvel about when you think that it was all mixed by hand. Of course the Palmgrove young men also don't appreciate the hard labor that goes into it.Sometimes they have to be pushed to make bricks. But at the end of a hard day of laying bricks they want their palm wine.A proverb they've taught me here in Palmgrove is "In the absence of what you don't have, you do with what you got".
Brian