Motorbikes
Written by: The Bridge on Tuesday, July 8th, 2008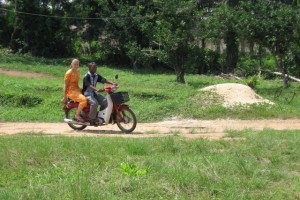 This blog is about motorbikes, since some people commented that they would like to see them. They don't exactly have souped up Harleys or Vulcans, but they have brand names like Qlink, CarGo and Demark. There are only about 4-5 different bikes, about 150cc. They look alike, have the same Jesus stickers plastered all over them and all smoke blue and are all capable of carrying around 6 people if necessary. Of course they are imported, coming ready to assemble in crates from China. This makes them as cheap as possible and their steel frames bend easily. A new bike costs about $610 USD, and they can run for about half a week on a tank of fuel, which costs about $7 USD. Though this sounds like pocket money, it is a lot if you don't have it, right?. Then there are the small 90cc mopeds. They are more expensive because their quality is higher and they use even less fuel. I often see women driving these.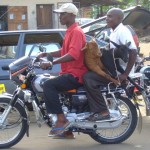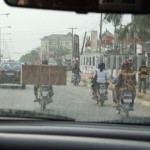 It's hard to get good pictures of things being transported on a bike because you have to sneak photos whenever you think they aren't looking. They carry everything on these motorbikes and bicycles, from 15 foot long bamboo on their heads to 6 people on one bike. They can carry crates of glass bottles, stacked up to 3 or 4 high! The one thing which made my eyes open the widest so far was a coffin, a nice new, shiny, fancy coffin strapped onto the back of a bike. If I manage to get a picture of that one, I'll definitely post it. It's a straaange sight! Yes, we did wonder if there was anyone inside!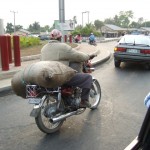 Motorbikes are what the public uses for transport; only a few people can afford a car and the fuel it takes. Here is a common sight; Brian took this picture at a burial ceremony. Motorbikes are like our taxis at home, only you get a bit wetter when it rains! And you are up against these kinds of roads. Some are surprisingly nice, others…well, see for yourself!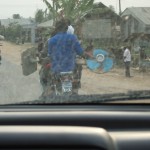 Actually one piece of information we should post is that Inno's father died in May. He is being embalmed and the burial is set for October. That seems to be relatively soon, since often they wait a longer time to bury people. Inno says if it were up to him, he would have him buried in three days, but he has no say so. The oldest brother and the rest of the family get to decide when the burial will be. Most of his life Inno and his father clashed, not agreeing on religious issues among others. But Inno made a point of trying to stay on the good side of his dad, always going to visit him and trying to placate him as he was often up in the air when Inno disagreed with his viewpoints. The week his father died Inno held the sermon on Sunday and he strongly admonished the congregation that they should always respect and obey their elders. Just because you disagree with them doesn't mean you can treat them with disrespect. The next notes are from the comments on the bottom of my study bible : "Honour your father and mother is the only law in the Bible that offers a reward here on this earth, that your days may be long!" There is a difference between obeying and honouring. To obey means to do as one is told; to honor means to respect and love. Children are not commanded to disobey God in obeying their parents. Now I can see my mom and dad looking at each other and raising their eyebrows as they read this!
Leanne
("Now Saul spoke to Jonathan his son and to all his servants, that they should kill David; but Jonathan, Saul's son, delighted greatly in David. So Jonathan told David, saying, " My father Saul seeks to kill you. Therefore please be on your guard until morning, and stay in a secret place and hide." 1 Sam 19: 1 =3 )