Of Wanting and Wasting Water
Written by: The Bridge on Wednesday, August 27th, 2008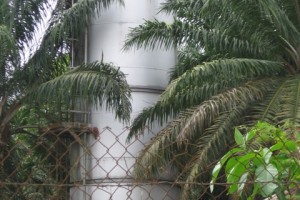 It all started with a little bit of NAPA. It was such a little bit, so innocent, it made the people so happy, yet unknown at the time, it was wreaking havoc on our faithful water pump 100+ feet underground. This NAPA, which had previously ignored us so that we didn't have running water for the whole month of June, came as one phase, when it should have been three phase. The result of this was a long series of tiresome and stressful events, which I am about to relate. June: This month was pretty much dry, as in we didn't have any water. This translates as no running faucets, no flushing toilets, bathing in the stream, laundry in the stream, lots of carrying pails for cooking and drinking. The reason we didn't have running water is simply 'no NAPA.' Maybe we had a couple hours the whole month. So of course the pump won't pump without electricity. You may wonder why we didn't run our big generator. We didn't because we really can't afford to pay for all the fuel it takes to run it for a couple of hours. Actually, I think we ran it a few times, just to fill the reserve on the bottom of our big water tower. Quite a bit of water will stay on the bottom of the tower after the water has stopped running. This is carried home in pails to drink or wash or cook. With all of Palmgrove using it, this lasts only about 3 days, if you're lucky.
If you no longer want to waste water in your home, consider installing a water flow meter to monitor usage and make the necessary changes to decrease water usage.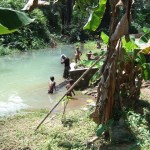 It was something to see all the people carrying water for a month. Everybody was washing their clothes in the stream where they usually wash them in a pail on their front porches. As for the bathroom, there had to be a bucket of water to pour into the back of the toilet. There are water reservoirs beside each house that take their water from the roofs of the houses, but they don't stand a chance with the heavy demand for water.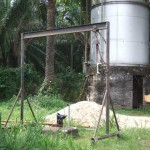 July: Well, wonder of wonders, we got some NAPA at the start of July. I smiled as I thought of the water tower filling with water, envisioning a refreshing shower. Imagine my horror when the next day Brian comes home and says not only is there no water in the tank, but the pump is kaput! It really seems that things are never so bad that they can't get worse sometimes. The NAPA we had had the day before came through as one or single phase only. The water pump needs three phase to run. So it was trying to run but couldn't. It overheated and wrecked itself. Thing is, originally the pump had a phase protection control box to prevent just such burnouts, because you never know what crazy thing NAPA will do next. This control box had been damaged a few years ago and so it was simply by-passed. With no protection, someone would always have to run to the tower to check if NAPA was coming through as three phase before turning it on. Of course, it would be waaaaays to much trouble to always go check it with NAPA always randomly going on and off with magnificent inconsistency. I was very much inclined to be angry at this turn of events, but at who and what would it help?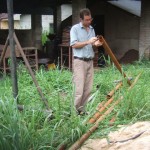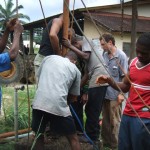 So, a new pump was needed. With donations from Canada, we sent Time, an electrician from outside Palmgrove, to buy us a new pump from Uyo. It doesn't take long to write that sentence, but it seemed that obstacles were everywhere. If it didn't rain (can't go to Uyo on a bike when it rains), then Time had other work elsewhere. The Palmgrove boys managed to haul the pump out pretty slick, but then the pipes had to lie there for over a week. Then Brian had to run to Abak to buy fittings. Then a steel brush was needed, and that meant a trip to town too. Oops, seems that we didn't have Teflon tape on hand, so, another trip. It seems every little thing you need at the moment is unavailable in Palmgrove and requires an extra town trip.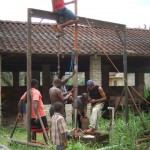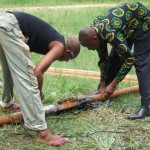 Getting the pump and all the pipe back down the hole was a lot more trouble than it had been taking it out. It would jam, or the thread was bad, or the fittings were too big for the hole. We even had to haul out a generator to weld something. After rounding up the boys, we spent the whole day working on it and we finally got the pump installed. It took so long; you could even climb onto the loader and take a bracing nap. Then we tested the pump, but still it wouldn't work. Something seemed to be wrong with the control box so Time had to drive to Uyo to investigate what was the matter. It turned out that the new control box had been wired wrong. Sigh. In the end, after everything had been fixed, the pump was tested and this time it worked! We ran the big generator for 2 hours to get some fresh drinking water into the reserve.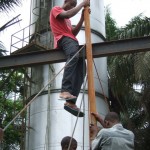 But still nothing is that simple. It is very common for people to open a tap and when water doesn't come out, they simply leave without closing it. When water does start running there is nobody around to close it. As it happened, there was this extra large reservoir at the chicken barn that had its tap left open. When we ran the generator for three to four hours, thinking we would have enough water for five days, we didn't have one drop in the morning. It had drained everything down the sewer. August: Now it's August and we are being showered with NAPA; we have so much we are wondering what to do with it! But for about a week now, we have had electricity almost non stop, if such a thing can be believed. We have had to go switch off our new pump because the water tower ran over. We have light bulbs that work inside our house. We can charge our cell phones and laptops by plugging into the outlets in the walls. I can use the electric stove to cook, though I prefer my propane because it's faster. Our fans run, cooling us nicely. But I can't see this lasting very long. The black people's comment on this is, "NAPA wants to send big bill." Why don't I have a hard time believing this? -Leanne ( Then God said, "let there be light," and there was light. Genesis 1:3 )