Togetherness
Written by: The Bridge on Sunday, September 28th, 2008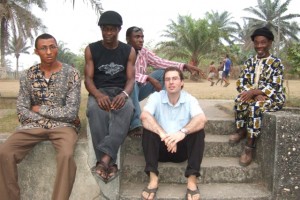 Ahhhh, life in Paradise. All doubts aside for the moment. I think we all know that the situation in Palmgrove Community, Nigeria, is less than pleasant at times. For all the white people who have been here, they understand much more the difficulties with the system and people. For the rest of you, we who have been here are responsible for your opinions and thoughts on this place. So, I would like to throw in my two cents and for this blog say that Palmgrove does have the beauty of unity; it is just easy to overlook it when one is discouraged. Also the satisfaction of people living together stands out when the people actually. It is easy to be down about the day to day living here in PG. But when the people do get together to do some work, skin color is, light banter and joking is the order of the day, and everyone is happy. Here is Sunday and Scorpio when we were working on putting the water pump back in the ground. Sunday is holding a mushroom to fend off any offensive raindrops. No matter the complaining beforehand, when doing the actual work, everyone seems to enjoy it a lot. I would say that it is just like this in any colony in Canada
The people of Palmgrove enjoy living in a community, and, having been here about 8 months, I'd say they do recognize that their lifestyle is better than the average lifestyle of the people living in mud huts or fancy mansions outside the gates. Better, as in they have people around them who will help them with their work, who share their food when they are hungry, morals are higher, they are more aware of choices they make in their life because the colony expects more of them, just like at home. I'll mention that when I write all this, that I have the young people and children in mind mostly. Here is a photo of me with some of the children. The white stuff on the baby's skin is a clay that dries and helps keep the babies cool and dry when the weather is hot, hot,
hot. They smear the wet clay on the skin after they have given them their bath.
Some of the young people are diligent in their work, and some need lectures every Sunday.
They are all easy to talk to and friendly and any one of them will willingly help you if you need assistance. They have strange ways of doing things – some which we'll never understand. Like this hair; they call it beautiful. I'd call it 'otherwise'. But then we do things they can't figure out.
A simple thing like sitting cross legged- they laugh and laugh! Go figure. I only realized that no-one sits cross legged here after they asked me why I do it… funny, eh?
As I stroll through the many rooms in our house, there are reminders of Makaras who have been here before us. Here is a signature we found on the wall of one room… so we added our own. All over the colony there are projects that white people have started and had to leave undone for various reasons. We often wonder if we make a difference in the minds and lives of these black people; how will we know? It is hard to get close to most of them. But with some it is easy to discuss problems, have a good time with or just fratshle, (chat and ask questions).
One thing that takes from the unity of PG is the closed dining, but we have good news about that. The news is that we plan to open it in the next month or so; so that will help! People do miss eating together. It gives a better sense of purpose if you know that every morning you get together and eat and discuss what to do that day.
So, now I'll look for a motorbike taxi to take me to th e internet so I can email this blog to Lance so he'll post it on The Bridge. It is raining now and that means the servers probably won't be working. When Lance was here I was forever wishing for a glimpse of these 'cyber cafes'; so here is a photo, albeit a bad one, of one I managed to take when I thought no one was looking. See Brian's head to the right?
This is one of the Abak cafes. We actually stopped going to this one. We now go to a different one, the Ritz Cyber Café. The service is about the best, though it's not especially ritzy,. Maybe we'll stop at a fruit stand on the way over….
Leanne
(Behold, how good and how pleasant it is for brethren to dwell together in unity! It is like the precious oil upon the head, running down on the beard, the beard of Aaron, running down on the edge of his garments. It is like the dew of Hermon, descending upon the mountains of Zion; for there the Lord commanded the blessing – life forever more. Psalm 133)