Working the Gardens!
Written by: The Bridge on Friday, August 4th, 2006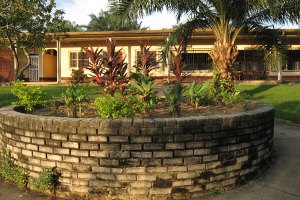 When my mom and I tried cleaning up the 'Hof', we had to do everything with a wheelbarrow, so we only did it around the kitchen. On our trips to and from the garbage pit with the wheelbarrow, my mom and me kept passing a beautifully built perfectly round garden, right in front of the kitchen, completely clogged with weeds. In hopes that it would change, we commented a couple times to the mothers, that the gardens are very weedy but nothing changed. So finally I couldn't stand it anymore. I said, "Mom, let's do the gardens". So we took one of our two shovels and started digging. A lot of the plants that were in there have obviously been in there for a while and were old and seeding already and branching all over the place. Some of shrubs had died too, so we threw them out and separated the good ones to replaced the missing ones. We threw out the old flowers as well and cut back overgrown shrubs. We could replace the shrubs by separating older ones but what about the flowers? We ended up digging out some beautiful pink and green leaves that look something like a Calla Lily and putting them in there. All the time I was wondering how I could possibly smuggle some home so that they would actually survive the trip. : ) They would make a really beautiful houseplant. By then it was getting quite hot, so we watered everything and quit for the day.

The next day we started on another garden. This one was by the main driveway, behind the boy's quarters next to the kitchen. Originally it had two Coconut Palms in it but one has died. There we started digging and guess what happened. As people came by, they took the time to help us. First Knakyo, then James and OttoObong helped dig the whole big garden. My dad even stopped by with some helpful advice. When it was all dug up, they left to do the next job. I was kind of stuck as to what I could put in. We don't have enough naira to feed the people properly (still just beans or plain white bread for breakfast and no supper) never mind spending it on seeds. So I started looking around. There are a lot of 'zuckerbamble' seedlings by our house, and with Dan's help I found some cockscomb seeds and seedlings in the front of the kitchen. Then I checked these sunny beauties by the computer room stairs and found their seeds and seedlings as well. So that's what the big garden got. Yellow, pink and red! Hope it looks good. In the end I also found a fancy Palm Tree variety sprouting on the beach by the ocean and Dan and me planted that too, to replace the missing Coconut Palm. Dan and Scorpio helped me a lot with replanting all the volunteer seedlings. Scorpio even asked me to take a picture of him doing it.
A week or two ago, I swiped some seeds from the flower gardens next to the homeopathic hospital, but they wouldn't sprout for me. Speaking of the hospital, you have to see the outhouse. lol. My mom had noticed some volunteer seedlings growing all over, so she suggested we go back for them. We asked the doctor (His office is also his operating room), if we could have them and he said, sure no problem. He even walked us out and told us we could take some of the bigger plants if we wanted to. Now the four gardens are looking a lot better. They will look even nicer when they're in full bloom of course, but for now looking neat and tidy will have to be good enough. It rains almost every day now so I haven't had to do any watering, only weeding, which is nice. I just hope that some of the girls will be inspired enough to take over and keep the gardens looking neat and tidy after I'm back on the Prairies.