Friends and Neighbours 2021
Written by: Julian Waldner on Saturday, December 25th, 2021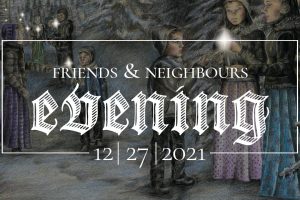 Hello friends,

Each year around this time, several Hutterite communities across Manitoba will invite their friends and neighbours to their colonies for an evening of music and fellowship. In my own community, Decker Colony, this always takes place on the 27th of December. People start to arrive around 5:00, filling the large lot in front of our colony garage with mini vans and pickup trucks. When our repurposed garage floor–now decked with chairs, carpeting, and a stage–has filled up with people, the evening starts. We always enjoy a supper of ketchup wurst and fresh homemade buns; alongside cookies and hot chocolate. After supper, there will be singing, Christmas plays and more.

In the midst of a global pandemic, our evening, and similar ones held in communities across Manitoba have had to be cancelled. However, we still wanted to do something to reach our to our friends and neighbours–especially in these difficult times. So, this year, we are streaming a virtual Christmas program featuring music, poetry and Christmas messages from Hutterites all across Manitoba and beyond. If you tune in on the link below at Dec. 27th at 6:00 CST you will hear not only the beautiful a cappella choirs that many people associate with Hutterites, but also small groups, solos, duets, instrumental pieces, and more. The song selection is diverse, featuring some traditional carols, alongside contemporary pieces and also a few German songs. While none of our communities can have a Friends and Neighbours evening this year, over 20 different colonies took part in this virtual program!

From all of us to you, we wish you a most blessed Christmas and we hope you can join us on the 27th!