Jams, Breads, and other Goodies!
Written by: The Bridge on Monday, June 30th, 2008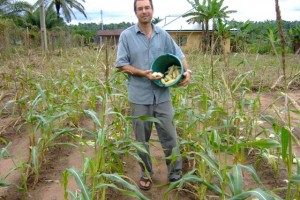 This is my garden basking in the burning sun. I have to admit, it's not doing too well. I told you about the corn, how they stay so small and skinny, and I still maintain it's too hot for them. Jonathan, Keystone, I put these two pictures here for you to analyze. See how one plant stayed so tiny and the other is bigger, yet they were planted at the same time? The small one basically grew a head of corn, a teeny tiny one. Most of the corn were very tiny, but I managed to pick over half a bucket. Let me tell you, what they lacked in size, they made up in taste! It was no difficult task to eat all of these babies. I got two meals from all the corn I planted. I planted some of the African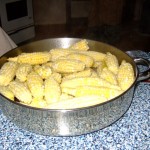 corn when I saw how scrawny mine were. They are under a foot high now. We've had some of their corn and they are very fleshy; so much so, in fact, that when you eat one, you don't make a mess at all,. Unlike when you eat our Canadian corn, they don't mush and fall all over the place when you chew on the cob. Compared to ours they are not sweet at all, but they are still good if you cook them with lots of salt or bake them in coals. They are still fresh corn on the cob, while you Canadians will have to wait another 2 or so months, ha!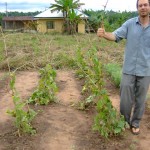 Now these are my cucumbers. They are not doing too well now. There are so many insects willing to ingest the leaves, the plants don't stand a chance! You have to make them grow up on a branch of bamboo, otherwise the leaves will be covered with sand when it rains. Now this is mango jam that I once made for eating at the dining room. I used mangoes and some limes. Funny part is when they had it at breakfast with their white bread, most of the people didn't even try it. They don't like sweet things like the white people do. I figure I don't have to make some again, knowing the effort is unappreciated. And this is how I make bread without electricity or baking it. I make Brian and myself a loaf ever so often, using whole wheat flour, flax, millet, oatmeal and a few other healthy ingredients we brought in our suitcases. I don't think I could find these in the Abak market, but I believe they would be available in the further away towns like Aba. Then they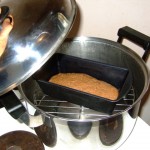 would cost too much, so it just isn't worth buying them. Buying a small jar of instant coffee in Abak alone costs N1000!! I couldn't believe it when I saw that price tag, so I left it standing on the shelf…. Next time I might just give in…some good coffee is something we haven't had since we finished the Columbia Coffee Joel from Starland brought us! Sigh! Those small pleasures in life! Anyway, I knead and I 'bake' this bread in this large Crystal Spring Seagull pot. I put a few inches of water in the bottom, let it cook, then once my bread has risen, I put it in the pot on a rack, close the lid tightly and let it cook for approx. 20 to 25 minutes; that's all it needs! It's so moist and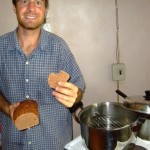 good! Here is a happy customer. I find that whichever of the young people happens to come in when we are "nashing", or they come looking for something to eat, that they enjoy my bread very much. So it's not true when I said that they only like white bread. I think most people here only know white bread, since that is what is available in the stores and market. Big loaves, small loaves, sweet loaves, less sweet loaves, but still sweet, eggy loaves, 'fortified' loaves…. white bread anyone?
Leanne
(And my God shall supply all your needs according to His riches in glory by Christ Jesus. Phil 4:19 )