Parting Pictures of Palmgrove People
Written by: The Bridge on Monday, October 6th, 2008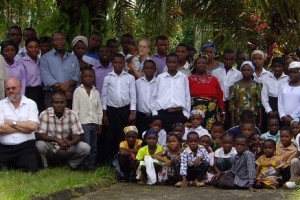 We have had requests for pictures of Palmgrove people. Everyone wants to see pictures, but no one is willing to take them. I ask Brian to do it; he asks why I don't do it. Well, now that we have Eddie, Anna and Sandra here with us, as of last week, we asked Eddie Vetter to mention at Sunday church that everyone should gather outside to take communal pictures. Now we have some we can share with our brothers and sisters back home. For those of you who have been here in Palmgrove, you will enjoy very much to see how the younger ones have grown.
Yes, we are to our 5 Makaras now. It's such a delight to have Eddie and his wife and daughter here with Brian and me now. They came last Monday, so they have been here a week now. Brian and I are leaving for Germany this Friday, so we will get to enjoy them for 11 days. Then they are on their own here, working for the Lord by helping our black brothers and sisters in their everyday life, supporting and encouraging them in their spiritual lives, and aiding them in their material lives.
Here we have a picture of the whole Palmgrove community, though I'm sure there are one or two missing. I'll attempt to name them all, starting from the back row, left to right: Joseph, Glory Asuquo, Idorenyin, Ita, Emman Dan, some Olvetter who comes to church, Inemesit, Otobong, Papa John Brown, baby Joshua, Leanne, Egypt, Papa Jonah, Ekemini, Mary Idiong, Efiok Johnson, Abasiofon, Naomi Brown, Constance, Inemesit Ntiah, Ita Glory, Blessing, Rev, Dan, Emman David.
Then the front row standing, left to right: Sunday Johnson, Aniebiet's mother, Kypo, Aniebiet, Okon, Mary Moses, Idara, Inno, Grandma who comes to church, boy, Ubong, ?, ?, ?, Arit, Otobong, Cecelia Tom, Cecilia Brown, Matina, Happiness, Veronica, Anna, Ezekiel.
Then crouching left to right, the adults are: John Brown, Eddie Vetter, Udo Imo, and on the other side of the children there's Gaudi and Emase.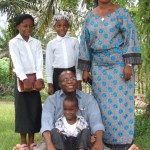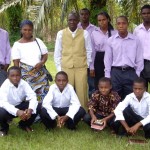 Then we took family pictures. Here is Inno's family. They have another little girl who is about 10 now and is currently living in New York, USA with Inno's brother.
This is Kypo and Veronica Asuquo's family; this family has two sets of twins. The girl in the picture, Inemesit, is actually their cousin and doesn't live in Palmgrove.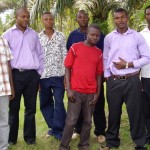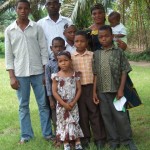 These boys can all cook, as there are no girls in the family.
Ita and Glory Jonah. Ita is our steward and a teacher in Palmgrove school. There never seems to be a moment he is not busy doing something that needs to be done. The baby is about 4 months old and is growing incredibly fast. I always tell Glory it must be the gari, and she laughs.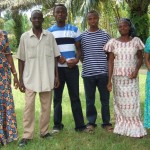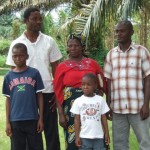 Okon and Aniebiet family. Ekaette is not living in Palmgrove, but stays overnight. The grandma is the mother's mother; I never caught her name.
This is Arit, one of our faithful members. She is the 3rd wife of Inno's father. The guy on the right next to her is Udo Imo, her son. The others are adopted.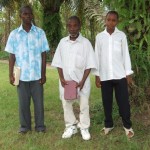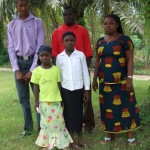 Sunday Johnson and his two boys. I think the one at the left is his son; the other is adopted.
Gaudi and Blessing Major and their two cute girls and Egypt, one of the boys who don't have a family.
Cecelia Tom family.
Friendly Ma Brown and her large family.
John and Helen Brown family.
Constance and her daughter Fatima.
This picture is of the single boys, left to right: Udo Imo, Arit's boy. Emman David, Mary Idiong's brother. Moses, Sunday Idiong, also Arit's boy. Then in the front, Scorpio, whose real name I just found out is Peter. It seems he is sleepy here. Dan Dan, Ita Glory's brother. Then Chukwu.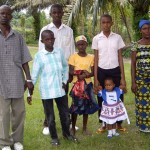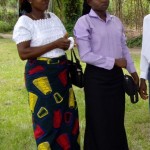 These are the people Brian and I got to know the last 8 months. Looking back I've got to be ashamed of the times I got annoyed or impatient with having to explain everything for the 10th time, of getting angry when I did something for someone and all the thanks I got was a 'shnolzoh.' Still, people are people, whether in Canada or Africa. We are all still made by the same loving God and deserve to be treated equally. We definitely made friends and will never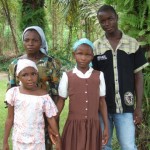 forget this place and its people. My last opinion is that we can never do enough to serve our Lord; we must help where we can.
Leanne