Any Tips For The Gardeners?
Written by: The Bridge on Saturday, May 20th, 2006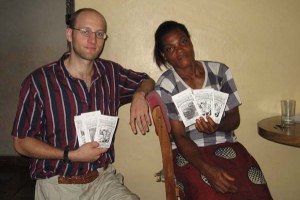 Hey Jonathan (Keystone)! I finally got those seeds that you sent in the mail! It took about 20 days. Who would have thought that they would actually get here? And for four dollars, that's quite reasonable enough! It's going to be an interesting experiment to see what will happen! Maybe there are some people reading this who could give us tips on how to go about planting and taking care of watermelons, melons, honeydew melons and tomatoes in this kind of environment. Judy Basel said, that when they tried planting tomatoes a few years back, the plants were beautiful, but the insects had all the fruit for lunch. The watermelons grew well too, but they burst open because of the heat. We gave half the seed to Glory to plant, the other half Talitha and I will plant. Maybe between the three of us we can get something.
They say that most of the produce like that comes from further north, near a city called Jos. It's at a higher elevation and therefore a bit cooler then here at the coast. Right now, we are heading into the rainy season. Supposedly it's cooler then normal, if you consider 30C (86?F) to be cool. The temperature only goes down to about 20C (68F) at night, and the relative humidity always seems to be between 80% to 100%. The heat isn't all that hard to get used to, but it's the humidity that really gets to you at times. The soil here is very sandy, it doesn't look very rich, but with a bit of fertilizer we could improve our chances. If anybody has some experience growing these kinds of plants in this environment, it would be nice if you could add a comment or email us. Thank you in advance, Lance