'Experimenting with Computers'
Written by: The Bridge on Tuesday, September 5th, 2006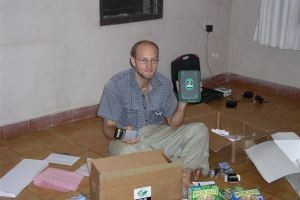 In the past few months, together with the help of Haven Colony in Minnesota, we have been experimenting with a different type of computer to see which one would be best for a place like this. Jonte send us a new PIC to try out. The PIC is designed for hooking up third world countries to the internet. It comes with a USB mouse, keyboard and a small, really small CPU. As you can see in the picture, it's about the size of half a cereal box. Everything comes preinstalled, meaning you can't install anything on it and it updates all the programs that it has through the internet. That way it isn't susceptible to any viruses or worms, which is a major problem with any computer hooked up to the net.
We don't have internet access here in Palmgrove but we tried the computer just to see how tough it is and if it's the best way to go. One of the good parts about this computer is that if the power goes off then the computer stays off until you restart it; unlike a normal computer where the power will stay on. This is important in a third world country because the power blinks on and off, just like Christmas lights. You can about imagine what that does to a normal computer. I'm surprised that the ones in the computer lab are all still working! The problem that I run into with the PIC is that I want to install educational programs for children, typing programs and others. So I don't think that this is the best option. We are using the PIC primarily for writing emails and accounting using excel. Oh, I also put all the pictures that I take on it so that the kids can look at them. They get a real kick out of looking at all the different pictures. It also has a good tutorial on it that teaches the basics of working with computers.
Right now we are looking into different PC's that would serve us better. There are quite a few good options out there, however, I ran into an unexpected issue. Apparently the Canadian and Nigerian government don't see eye to eye very well, so there's a bit of political friction. We were supposed to be able to renew our Visas in Nigeria every 3 months, but they now changed the rules and only allow us to do it twice, which comes to six months. So Paul, Clara and I are leaving by the end of September. That doesn't give me enough time left over to look into it. However, I think the kids and adults have a pretty good headstart now, hopefully they will continue. Some of the better ones are up to 30 wpm typing speed, quite impressive for only a few short months. So hopefully we can leave a few positive things like that behind.