Like Manna From Heaven!
Written by: The Bridge on Monday, July 3rd, 2006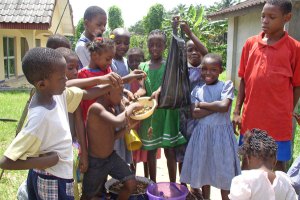 Have you ever wondered what manna tasted like? It was found like dew on the ground, every morning when the children of Israel were going through the desert towards the promised land. Well, in the months of June, July and August, here in West Africa, they have something that can be found ever so often, covering the ground in the morning. They refer to it as manna, in their language it's called 'nua'.
The children eagerly go around collecting this special food. What is it Eddy Vetter is taking a closer look at it here. You still can't figure out what it is?  In our language we would call it a termite! What happens is, around this time of year the termites, who are social insects, leave their nest in order to start a new home. The male and female grow wings and by the thousands fly out of their old home. When they land, they shed their wings, mate and dig into the soil to start a new home, only a fraction of them will ever be successful. The rest will make a good meal for birds, animals and as you can see, humans as well. This happens in the middle of the night, in the morning, the ground is just covered with a mass of crawling insects.
The children eagerly collect them, they either eat them on the spot, or take them home and cook them. Sometimes they have them shish-kebob style, as you can see Papa with his catch. Or they put them into bowls and sift out the wings and small twigs so that only the insect is left, then they fry them. When they fry them, they smell like peanuts, quite tempting actually. If you're really curious what they taste like, maybe I could sent you a small sample. Did I try them? Well…umm…that's my secret!
On Sundays, I like to go walking through the many trails in the jungle. Sometimes I go alone, and sometimes a few guys come along. It's fascinating to see all the different types of trees and vegetation that grow here. It's a botanist's paradise. Some of the guys know quite a bit and are able to tell me what kind of trees there are, and what they use them for. I'm beginning to be able to identify the more common vegetation. There are different types of palm trees, some from which they get palm oil from and from others palm wine. Then there's the Mango trees, Banana, Orange and Umbrella tree and a lot of others that I don't know the name of, but they're getting familiar. The trees grow very quickly around here. This tree they call Malina, according to them, it's a bit over 10 years old; it's a soft wood, which they use for making matches and other things. There are many ferns and plants with humongous leaves. Also many strange insects, some of them look like they come from another planet, like this multicoloured grasshopper.
There's a quiet little place over by the fish pond, that is a picture perfect place to sit and listen to the sounds and sights of the jungle. You can see the fish swimming in the stream below, with colourful and fancy design, just like the fish you see back home in an aquarium. It's hardly ever quiet there, the sounds of the jungle are quite vibrant. The frogs, crickets and birds can make quite the racket. At night, when there is a full moon, the orchestra of jungle sounds in the pale moonlight makes for quite an impressive experience.
– Lance