Message to the Young People from Eddie Vetter
Written by: The Bridge on Monday, April 24th, 2006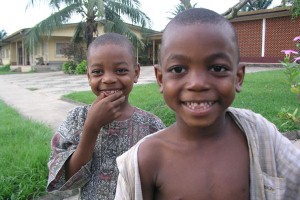 Hi, all you younger generation,
Thanks for the encouraging comments that you are posting for us, here in this far away part of the world. We need your prayers, and we need to hear and know that despite the bleak picture you hear about, you are standing behind us. Yes, it is a daily struggle to keep Palmgrove going with the basic necessities like food, drinking water, toilets that flush and showers that run etc. One must however realize, that this is a third world country, and half of our world lives with this as standard. Therefore as Christians, we want to follow the commandments of Jesus, Matthew 28:19,20, "Go therefore and make disciples of all the nations baptizing in the name of the Father and of the Son and of the Holy Spirit. Teaching them to observe all things that I have commanded you and lo, I am with you always even to the end of the age."
This challenge will be upon us from generation to generation. BUT, WE WANT SUCCESS NOW! Success? To what point? In our own eyes, or God's eyes? How do we measure it? Yes, the picture in Palmgrove is bleak at the moment. The last time Judith and I were here, was in 2000, from then to now, there has been a lot of deterioration. One assumes a lot of it was from a lack of funds, and also because of a lack of ambition and leadership in organizing projects and repair work. With zero income at the present time, we simply have to depend on the kind, open hearts from our Brethren in Canada and the US. After two weeks of spending a lot of our time doing ministerial work, Paul Vetter and I haven't had a lot of time to work on repairs. Although we did get some important repairs done. Everyday we are trying to prioritize and make our money stretch, but somehow it keeps running out. After our two weeks of stay, one can sense that the Palmgrove people are hopeful again and keep saying that Palmgrove will now get better again. Even young people have been encouraging us by saying, "We need more such sermons to shake us." The Easter story has many good examples which we can use in this time, to help with the present struggles we have been having in Palmgrove. For now we'll keep on planting seeds, even though, like in our western world, not all fall on good soil, it's all part of building God's Kingdom.
God Bless you all, Edward