Category Archives:
Nigeria 2006
Written by: The Bridge on Tuesday, June 6th, 2006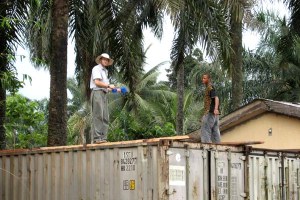 Working with wood is always an intriguing challenge. Out here in Africa, working with exotic woods and without the proper tools makes it even more of a challenge. Eddy Vetter wanted to get a roof built over three of the containers, to keep them nice and dry, that they would make better storage. So, he got a pile of wood for me and
told me to get at it
. I looked at the pile of wood that was supposed to be two by fours and wondered if anything ....